Like all good stories, it started on April 27, 2015.
Tonight, like every Monday, "Quiz Night" @TheGrapesLondon. My team was second last week, and second the week before. pic.twitter.com/lSurdY0C7J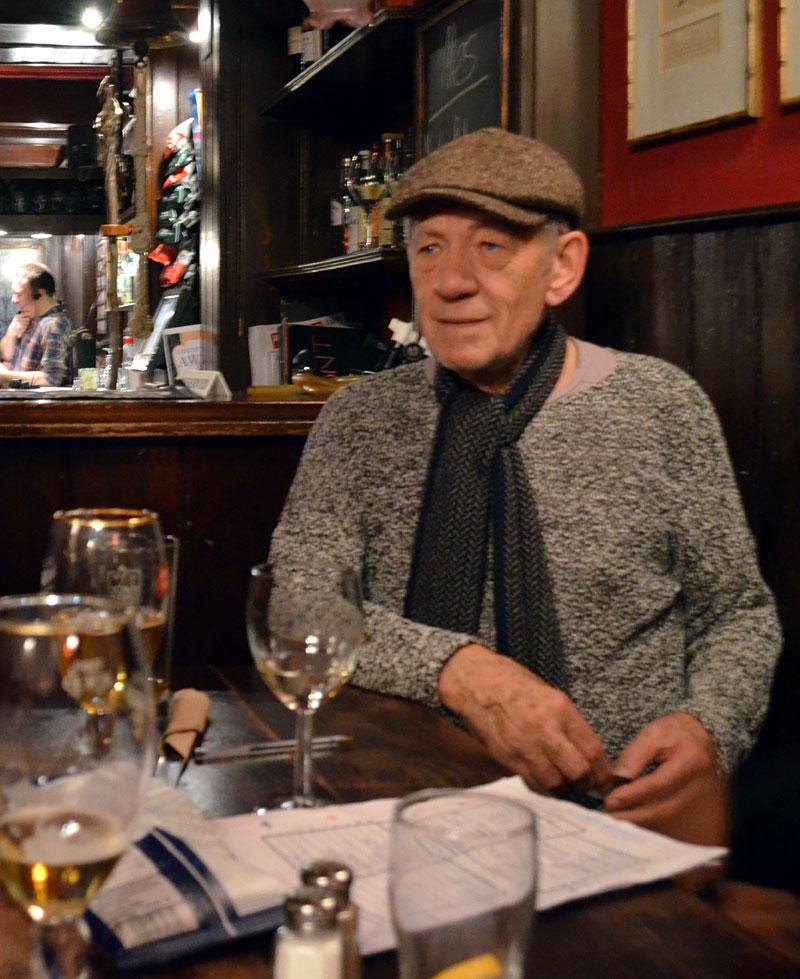 Yes. Yes, that's Sir Ian McKellen nonchalantly tweeting about doing a pub quiz in London every week. Yes. Yes, he does look effortlessly fabulous.
This tweet sounded like an invite to me. It sounded like he was asking me to personally come down to the pub and say hello and maybe have a three-course meal with him and maybe become friends forever - a couple of great lads having a few Yorkshire puddings while they do a harmless pub quiz.
So I set the wheels in motion...
My intrepid team and I arranged to pop down to The Grapes, the East London pub that Sir Ian co-owns and at which he is a regular quizzer. We set a date. We were gonna do this thing. So on Monday, May 12, we slipped onto the DLR and made our way down to Westferry. Our hopes were high; we were all wearing pants. We meant business.
The excursion didn't begin well, given that we basically walked around in an enormous circle before discovering the correct way to the pub. Once we arrived, however, we were excited, frightened, and slightly aroused.
To say that The Grapes is a small pub would be like saying that Ian McKellen featured in the Lord of the Rings films. It would be true. Though we were an hour early, initially we struggled to find any space whatsoever. Before long, however, a space cleared at the bar and we sat ourselves down.
Although we munched on tasty food and readied ourselves for the quiz ahead, a pessimism began to loom over us as we realised that not only was Sir Ian nowhere to be seen...it looked like he wasn't going to come at all. I made my apologies and we agreed that, even if he didn't show up, a pub quiz would still be quite fun. The quizmaster slipped his head mic on and introduced the quiz. I couldn't help feeling as though the evening was going to be an enormous anti-climax.
Then the impossible happened.
The phone rang.
The quizmaster waited.
The quizmaster took a message.
We held our breath.
The quiz master turned to the waiting crowd and said these unforgettable words: "Hold on. We'll have to wait. The boss is coming."
When we realised what this meant, we were ecstatic. Anti-climax had become climax. I lost the plot and I nearly passed out, I'll be honest with you. I was grinning like a child who's just done a loud fart. There followed a breathless few minutes. And then...through the door...he materialised.
It was Sir Ian.
Sir Ian McKellen was in the building.
In order to search for a vacant table he had to brush past our team; knighthood was for a brief moment inches away. Once he took his seat, the quiz could begin.
Look at that photo above. Look a bit closer. Who's that man looking down at his quiz sheet?
Yes. That's right. Without meaning to, we had plonked ourselves down in optimum McKellen vision position. We were in the hot seat. We felt a little bit bad for taking an incognito photo but, as the kids say, YOLO, mofo.
Ian seemed to take the quiz very seriously - a quality we admire. Just because you co-own the pub doesn't mean you just piss around when it's quiz night. Pub quizzes are serious affairs, and I'm glad Sir Ian appreciates this.
We - 'Angry String' - did ourselves proud in the first half.
Ian's team - 'R.I.D.' - didn't look as though they were all that pleased with their performance, and I'm pretty confident we beat them. This must, of course, have been hard for them to cope with.
I panicked as half time was announced because Sir Ian left the pub. SIR IAN WAS ON THE RUN.
Assuming he was going to be gone forever, we chased him out. Luckily, he hadn't managed to get very far - he's 75. I asked if he would be staying for the rest of the quiz. With cigarette between lips he said that yes, he would. With this established, and my heart rate back to normal, I returned to the pub and the second half. It was the first time I had ever spoken to Sir Ian McKellen. But it wouldn't be the last...
The less said about our second-half performance the better, to be frank with you. We have to take a look at ourselves and ask some serious questions about what happened that night. Once the quiz was over, we learned that we had been placed sixth. (There were approximately twelve teams.)
I know what you're thinking: where did Sir Ian's team finish? I can reveal that they made a late surge, had an outstanding second half, and came third. They should be proud of this. We're not bitter about our defeat. But if you have Ian McKellen on your team you've already got an unfair advantage - that's all I'm saying.
With the quiz over we decided that we couldn't leave without a memento of the roller coaster evening. Fortunately, Sir Ian had precisely the same thought. He approached us nervously and said with trembling lips that he was a huge fan of our work. Hands shaking, he asked if by any chance he could have a photograph taken with us.
We thought about it for a while, weighed up the pros and cons, and then said that yes, yes he could.*
* We are legally obliged to point out that precisely the opposite happened. Because we are embarrassing nerds, we asked for the photo ourselves. We went on to tell him about our performance in the quiz. He was extremely obliging, shook our hands, and we left the pub triumphant.
It was a night to remember. It was a night to savour. It was one night to rule them all.